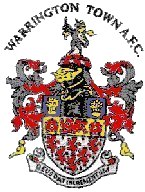 WARRINGTON TOWN AFC
Cantilever Park,
Loushers Lane,
Latchford,
Warrington,
Cheshire.
WA4 2RS.
Club Tel. 01925 631932
Office Tel/Fax 01925 653044
E-mail wtafc@iname.com
I am sure you are more than aware football is becoming increasingly popular and where better to support it than at the crucial grass roots level with your local team Warrington Town.
We receive constant local media attention with match reports and photographs appearing in Liverpool Echo, Daily Post, Manchester Evening News and the Guardian Group of Newspapers.
Next season we will also be looking forward to exceptional coverage from the soon to be launched Wire FM designed to focus on Warrington and its growing community. This is too good an opportunity to miss to promote yourself within your local community, at a minimal cost. Supporting the towns leading team in the National major sport which will reach even greater heights with the onset of the World Cup.
The new season is now upon us and we are once again looking forward to being associated with yourselves. As you will see from the advertising packages attached we are able to offer you numerous levels of support for the oncoming season. Packages start from as little as £100 up to the ultimate package of £5,000.
We shall be contacting you in the near future to discuss any package requirements you may have however, should you wish to contact us in the meantime please e-mail us at wtafc@iname.com or send your correspondence to the address above.
Yours sincerely

Paul Wainwright
Voluntary Commercial Manager
Hero sports team of the year 1992/93, NWCL Champions 1989/90., MCL Champions 1960/61,
NWCL Reserve West Champions 1989/90, NWCL Cup Winners 1985/86, Raab Karacher Cup Winners 1987/88,
NWCL Shield Winners 1985/86, MCL Cup Winners 1953/54, 1954/55, 1955/56,
Altrincham Amateur Cup Winners 1954/55
Northern Combination Cup Winners 1991/92, Runcorn Challenge Cup Winners 1965/66, 1966/67, 1968/69
Guardian Cup Winners 1980/81, 1993/94
F.A. Vase Finalists at Wembley Stadium 1986/87.


---
E-mail the club: wtafc@iname.com