Match report
13th April 1998 - Warrington Town 0 - 1 St. Helens Town
Sorry, no Moment of the Match today, due to lack of attendance by us at the match. This is the Warrington Guardian report:
Warrington Town Firing Blanks
Poor finishing meant a hard working Town performance still ended in defeat on Easter Monday.
St. Helens arrived on a high after romping to victory 6-0 two days earlier and home side 'keeper Alan Thomson had to pull off a diving save from Gary Jones in the first minute. Steve O'Neill also hit the bar after 10 minutes and Steve Pennington's header from the rebound was acrobatically saved by Thomson. Town managed to hold out against the early pressure and began to play their way into the game in midfield. Paul Anderton just missed getting his toe on the end of a Lee Holden cross for Town's best effort of the half and it seemed to be heading towards 0-0 at the break when St. Helens struck. Steve Williams rifled in a shot that Thomson could only parry and his defence left him woefully short of cover as Pennington raced in to poke home his 37th goal of the season.
The St. Helens defence found themselves playing with the sun in their eyes in the second half and the game swung in Town's favour. Kevin Tyrell and substitute Rob Hilton both fired wide from strong positions and St. Helens knew they were living on their luck until the whistle blew.
Warrington team: Alan Thomson, Lee Holden, Andy Swift, Neil Boardman, Mark Ashton, Paul Anderton, James Ward, Stuart Lee, Jerry Coll, Kevin Tyrell, Gavin McDonald. Subs used: Ian Langton, Rob Hilton.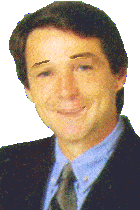 Alan Hansen says: Weeall, if thee doan't improooove pratty soon then ye know, a mean really, they're goonae be facin relegaaaation fu the second season in e roo.