Moment of the match
18th August 1998 - Warrington Town 1 - 2 Castleton Gabriels
Leading by example
Town's captain Fadi Hanna picks up the ball in midfield and starts to make a forward run as the Castleton defence look on nochalantly.

He beats one man and the defenders start to look worried.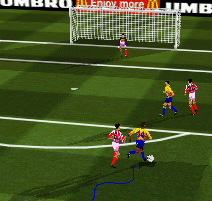 He beats two more defenders and bursts into the box. The defenders are terrified but not as much as the goalie.
He shoots...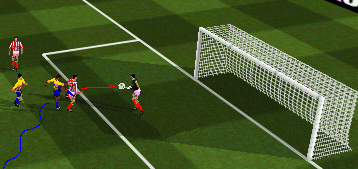 But the ball bobbles awfully and trickles into the relieved arms of the keeper.
| | |
| --- | --- |
| | Alan Hansen says: Ay weeell ye know, heee's reeeally gottae be hittin' the target from there. But it's shoakin defendin' a mean jes loooook a tha will ye? An as fir thee resoolt, a mean weel, a always sey star as ye meen te go oan, eh? |
---
Warrington Guardian report:
FADI FADE FAILURE
By MIKE PARSONS
NEW Town boss Steve Jackson let rip in the dressing rooms after Tuesday night's North Western Trains League opening defeat at Cantilever Park. It was Jackson's first game in charge after arriving from Bootle and he thought his team should have won.
Club official Dave Hughes, last year's manager, said: "It should have been all over by half-time. We should have been 5-1 up. In the second half we never played. Our players never did what we asked them to do and Castleton threw an extra man up front which our players didn't seem to be able to handle."
Town's sliding fortunes in the game seemed to coincide with an injury to skipper Fadi Hannah. The former Bootle player was exceptional in the first half, spraying passes all over the park, running with the ball and putting his foot in when it counted. But in the second half he disappeared and was substituted.
Hughes said: "He took a knock in the first half. He had been buzzing but it affected his game after the break. It is fair to say he was the difference."
Castleton took the lead in the 35th minute against the run of play when Neil Collier forced the ball home with his chest.
Three minutes later Town, whose side included seven new faces from last season, were back on level terms. Ian Bold, who had missed a sitter previously, banged home the ball after it fell to him in space from a scramble.
The Rochdale side hit their winner through striker Tony Diamond six minutes from time to make it a good start to the season for them with two away wins.
Team: Paul Knights, Steve Weston, Chris Hunt, Ian Murphy, Mark Cowell, Mike Arnold, Ian Bold, Jerry Coll, Fadi Hanna, Phil Farrelly, Paul Berry. Subs: Kevin Tyrell, Tony Stockton, Neil Holden.