Moment of the Match
26th December 1998 - Warrington Town 2 - 1 Tetley Walker
A huge (206) crowd turned out on Boxing Day for the eagerly-awaited local derby. Right from the start this was going to be a big match, Tetley's line-up included several former Town players, notably Stuart Clay.
Town began brilliantly, after five minutes a diving header from Kevin Tyrell was flying in until Lee Medland the Tetley keeper pushed it onto the bar. It wasn't long before they made the advantage count, Damien Whitehead dribbled along the right wing and fired in a low centre which was expertly palmed in by Medland at his near post. A second was nearly added by Whitehead during a period of sustained pressure, Town got two corners in a row and Whitehead's header was heading for the top corner but was deflected narrowly over and wide.
The second half was more eventful than the first. A defensive slip (literally) gave the ball to the Tetley forward and they forced the ball in through Hunt despite the efforts of Alan Thompson in the Town goal.
Town were just getting back into the game after this setback when Whitehead "scored" an absolute screamer of a header, looping the ball into the top corner over the helpless keeper. An equally spectacular celebration was cut short by Whitehead noticing that the linesman was flagging and he had been narrowly offside. In the run up to the "goal" one of the Tetley Walker defence had taken a bash to the head and he was lying injured on the ground. After he didn't get up for a bit the never-seen-before stretcher was fetched and an announcement had to be made saying if anyone had any medical experience could they come and help. Here is the first ever photo in a Yellows match report and it is the doctor running on to help, eventually it turned out the Tetley player was unconscious.

Just after the restart of play, Town got a penalty when Kevin Tyrell was blatantly dragged to the ground by the oncoming substitute near the penalty spot as he tried to reach a cross from Whitehead. The offfending player was only booked, here is a picture of the actual incident.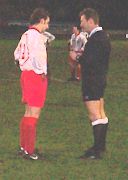 And Whitehead stepped up to score, sending the keeper the wrong way and stroking the ball in the bottom right corner.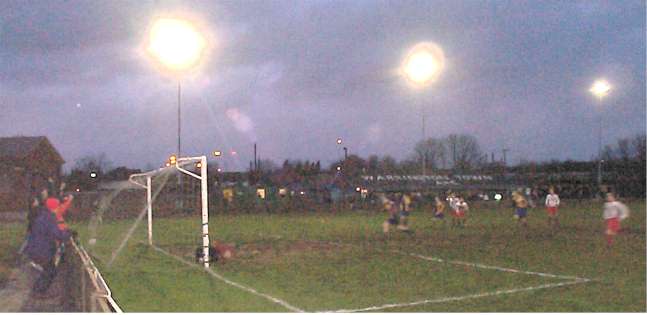 yeeeeeeeeeeeeeeeeeeees.
| | |
| --- | --- |
| | Alan Hansen says: Aye, anooother greayt reeesoolt fe Toon. Och, thee did weall tae come back from tha', a real stinger, were tha' Tetley goal. An' well done, hangin' ontae the end o' the ninety minutes. |