Match Report
23rd February 1999 - Warrington Town 5 - 0 Oldham Town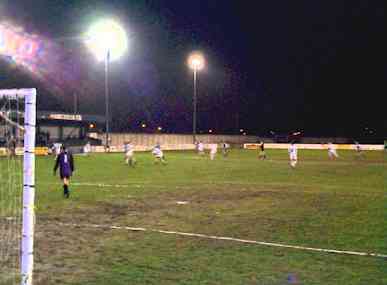 A dark and bitterly cold evening doused in drizzly rain saw Cantilever Park lit up with some great football and four goals from the NWTL 2nd Division's man of the moment Damien Whitehead, as he helped Town on their way to their biggest League win for months - a 5-0 drubbing of Oldham Town at Cantilever Park.
Town were easily dominating the game from the kick off (delayed for about 20 minutes due to the failure of the shoelace holding up the net at the Bridge End). The pitch was looking good as Town passed passed the ball about slickly, making a mockery of Oldham's less-than-perfect control of the ball, and repeatedly slicing through their shaky defence. The wet and cold supporters did not have to wait long, however, before Town proved that they were easily going to overhaul the visitors. After some great passing on the edge of the box and some good strong work by Kevin Tyrell, the ball was squared to the unmarked Damien Whitehead, waiting to pounce just outside the six-yard area. He simply and calmly slid the ball home past a stranded Dave manning (who looks a bit like Damo). Oldham, however, were reduced to shooting from about thirty yards out and making themselves look more than a little desperate to cling on to their seconds' worth of posession.
Town were on top, undeniably, passing and moving like never before. Damo's narrow-angled skimming header flew teasingly inches above the near top corner after some good work by Paul Anderton on the left as confusion reigned in the box due to the fact that a ball boy had thrown another ball onto the pitch (which was skilfully palmed away by the ref). Seconds later, Damo was clear through again, although he had more time than he thought, his delicate side-footed volley dropping again, only inches over the bar and onto the roof of the Bridge End net. Oldham managed only two clear-cut chances in the first half, the first coming about after a bit of a defensive mix-up leading to a shot which was directed across the goal but wide. A few minutes before half-time, as Town slackened off a little, an Oldham corner looped across to give the striker a free header which shot narrowly wide. But the half-time whistle blew and Town went into the warmth of the dressing room 1-0 up.
The second hlf started slightly scrappily, neither team holding the ball for any length of time before losing out in midfield. However, as in the first-half, it was not long before Town scored again. Some excellent running by Paul Anderton on the left before the delivery of an inch-perfect cross onto the forhead of Gavin McDonald's bullet diving header was only parried into the net by Dave Manning left the fans cheering for more. Town were on fire. Terry Nestor's magnificent midfield play and a great run on goal was hoofed out for a corner which was duly crossed deep to the back post where Whitehead was waiting, unmarked. Leaping high above the defence, Damo powered home his 26th goal of the season. But the next was even better. A vicious challenge on Elfyn Edwards on the edge of the box led to a Town free kick, about 20 yards out on the left-hand side. Nothing was made of it, but a few minutes later, a great cross was made from the left to Kevin Tyrell. He somehow managed to wriggle through three or four players before he whipped in a low cross-cum-shot. The ball was cleared off the line only as far as Damo who, picking himself up off the floor, calmly backheeled into the net. Pure class. And a hat-trick. Surely that was as much as the maestro could muster from his magic boots?
Oldham Town may as well not have been on the pitch. They just couldn't keep the ball for more than about three seconds at a time. Their cause was not helped by the goalie, who had an interesting habit of placing the ball in the deepest rut in the ground every time he was taking a goal kick. This was noted fairly early on in the game by those behind the goal, and before long something had to come of it. It did, as with about seven or eight minutes to go, Dave Manning hoofed the floor just in front of the ball, sending it spinning dangerously towards Paul Berry, having come on as a substitute. He delivered a good cross which was met simultaneously by Kevin Tyrell's Head and a defenders boot, leaving Tyrell clutching his face. A goalmouth scramble of epic proprtions ensued before Damo, sliding in at the far post and once again picking himself up, swiveled sharply and shot low and hard into the net. Six goals in the last two games and number 28 for the season so far completing the demolition of Oldham Town.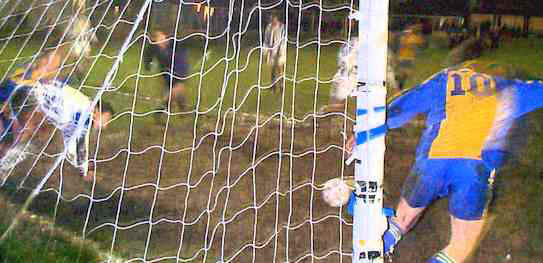 Damo sizes himself up to swivel before driving the ball home powerfully at the near post to make it 5-0.
Town had easily improved on the last time the teams met, when the score was 5-1.
| | |
| --- | --- |
| | Alan Hansen says: A meen wha cannae saae? Wha' a pleyeer! I wouldn'a bee surprised at aall if a big cloob froom the Premieer Leeeg wier to coom iin an snaafle 'im oop fer a huge sum. |
GOALS, GOALS, GOALS
Warrington Town 5
Oldham Town 0


SAVOUR the sensational goalscoring skills of Damien Whitehead at Warrington Town before it is too late. His four goals against basement side Oldham took his total to 27 this season and his outstanding record is again attracting the spies from higher league clubs.

Everton and Oldham Athletic had scouts at this North Western Trains League Division Two game and they must have left Cantilever Park impressed with his poaching prowess. After the game manager Dave Hughes conceded: "We do have Damien on a contract until the end of the season with a further option after that but I don't know how long we are going to be able to keep hold of him."

The 19-year-old is thoroughly enjoying his soccer with Town but he is ambitious and wants to go as high as he can in the game. Whitehead said after Tuesday night's win: "I always set myself a target for a season of 50 goals and I normally get it. I have managed 27 so far and I only came into the team at the end of September. I think there are about 17 games to go so it is within reach."

The service was certainly right for Whitehead against Oldham. Strike partner Kevin Tyrell, who worked tirelessly, laid Whitehead's first on a plate in the third minute for a simple tap in. Paul Anderton fired in a lovely cross for Gavin McDonald - the last man to hit four for Town, back in October 1991 - to head home in the 56th minute and then the floodgates opened.

Anderton's corner found Whitehead unmarked on the far post for a nod in. Whitehead's hat-trick goal was bizarre. He hit a post when it was easier to score but chased the ball from the rebound and back-heeled it into the net as defenders and the goalkeeper watched on stunned. Three minutes from time substitute Paul Berry whipped in a delivery which Tyrell missed with a spectacular dive but Whitehead came from nowhere to slot it home.

Town: Paul Knights, Ian Bold, Joey Fenton, Steve Cartledge, Elfyn Edwards, Gavin McDonald, Terry Nestor, Andy Tague, Kevin Tyrrell, Damien Whitehead, Paul Anderton. Subs: Chris Hunt, Ian Shaw, Paul Berry.