Match Report
16th March 1999 - Warrington Town 3 - 0 Colne Dynamos
Tonight's attendance was feeble, apparently most of the citizens of Warrington are not interested in coming to watch one of their most successful teams at the moment. Although they could be excused for not making the trip to Cantilever park on a Tuesday evening, they missed out on a confident and dominating Town performance.
The signs were there early on, shouts of "dodgy keeper" were being aimed at the Colne net-guarder as he flapped at simple crosses. Damien Whitehead, aiming for his 34th goal of the season, hit the bar during a goalmouth scramble caused by a keeper fumble, to the despair of fans behind the goal. We didn't have long to wait however, a sweeping passing move fed possession out to the right, a swirling long cross found Damo on the back post and he expertly guided the ball onto Gavin McDonald's right foot and he crisply volleyed home the first goal.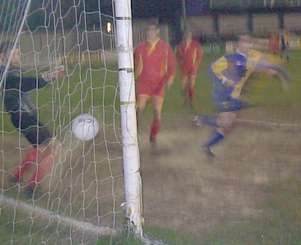 Elegant: McDonald raps in the first of the night
Colne gave Town something to think about just before the break, a similarly eloquent passing sequence was rounded off by a spooned shot that could easily have caused more trouble.
In the second half, Whitehead was still hungry for goals, shooting just over the bar before side-footing in a cross/shot by Terry Nestor for 2-0. But Damo has set himself an ambitious target for the season and he needs to keep up his average to achieve it. He went further on the way by scoring a fantastic solo goal late on in this match, taking on a long high ball through the centre, heading it further into his path, bursting past two defenders and lobbing the keeper from the edge of the box. Something about the finishing could be described as professional.........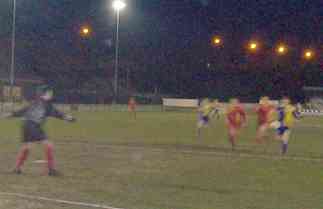 Number two: Damo lobs the stranded Colne keeper
Alan Hansen says:

"Ye cannae fault tenight's perfoormance. Goals-a-pleanty an' ye've got a cleen sheet an' all."
DAMIEN ON SONG AGAIN

THERE is no stopping Damien Whitehead, who helped Town reach the Second Division Trophy final with two goals at Curzon on Saturday. The Town striker took his total for the season to 34 strikes when he netted twice against Colne in North Western Trains League Division Two on Tuesday.

If it had not been for the crossbar the 20-year-old would have had a hat-trick and he even helped to set up the first goal which was fired home by Gavin McDonald. Bottom four outfit Colne were outclassed by a Town side which played well but was not firing on all cylinders. McDonald stepped into the side to replace Kevin Tyrrell, Whitehead's usual strike partner who was unavailable for the first game of a two-match suspension. Tyrrell could raise a cheer though as Whitehead's strikes meant that the two of them have now found the target 50 times between them this season.

Tyrell's absence was McDonald's gain as he steered home a Whitehead pass after only 15 minutes. It was 50 minutes before Whitehead improved his own tally. It came after midfielder Terry Nestor had beaten the off-side trap and slipped a ball through for Whitehead to slot home. Whitehead lobbed the Colne 'keeper, also called Whitehead, in the 84th minute after a super pass from Paul Berry.