Match Report

20th March 1999 - Warrington Town 3 - 1 Daisy Hill
Town were kitted out in red for today's match against league opponents Daisy Hill. In the past it has been the thinking of Dave Hughes that the team looks more dangerous and menacing to the opposition. Whether or not this was the plan today we don't know, but we reckon it might have had something to do with the fact that Daisy Hill were in blue and it could have got a bit confusing if the only difference between the two teams was half a shirt's worth of yellow.
Whatever the reason, Town were certainly very menacing, and took the game straight to Daisy Hill. Gavin McDonald's first minute goal was disallowed as Damo, who had played the ball to him, was judged to be in an offside position. Still, the game was off to an exciting start, especially as two minutes later Damo put Town ahead. A great piece of skill from Paul Berry saw off two or three desperate lunges from defenders before directing a perfectly weightd ball onto Damo's head. The most exquisite glancing header guided the ball perfectly over the arms of the Daisy Hill 'keeper and into the net. How he got his head round it with such skill was completely beyond any of the fans at the Bridge End, but they were still cheering when Jerry made the goal announcement over the speaker system.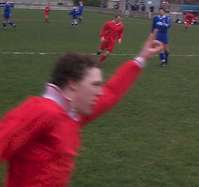 Damo celebrates on the run after putting Town ahead with the most fantastic header.
Town continued to pressurise and just a few minutes later went two up as another great run from Paul Berry was laid off and slotted through to the feet of that man Damien Whitehead. As he drew his foot back to unleash a bullet drive, he was checked and dragged back by the nearest Daisy Hill defender sending Damo flying. A blatant penalty.


Damo powers home the spot kick to make it 2-0
Town again came close - Daisy Hill were being torn apart - when Gavin McDonald showed great persistence and determintion to fend off his marker and fire in a shot just over the bar. Paul Berry could have perhaps picked it up midway through the move in a promising position but left McDonald to shoot. About 15 minutes later, McDonald was at it again as he tackled the Daisy Hill full-back on the right before whipping in a low cross hard towards the advancing Damo, free in space on the other side. The goalie and the nearest defender however combined to stop it, each nearly knocking the other out due to a distinct lack of communication. The larger-than-usual Town support were certainly enjoying themselves.
Daisy Hill pulled one back though, after about 25 minutes of play. A long looping cross found the Daisy Hill striker Prescott's head and the ball was calmly placed in the open net, Town's keeper caught in no man's land. It was Ashton Town all over again. Perhaps Town had sat back slightly on their 2-0 lead. The next incident of note was a bad injury to Town's number 2, Chris Hunt. He was left screaming in agony after a clearly crunching on the ball clash with a Daisy Hill centre-back. The stretcher was hurried on and he was replaced by Paul Anderton after being applauded off the field. We wish him a speedy recovery from what looked like a potentially very serious injury.
Town picked up their game and were passing well, Daisy Hill resorting to shoting high and wide from distance. The closest chance they had came about when Prescott fired a rebound wide of an almost open goal after the Town keeper was left on the floor after making an initial save to his left. Damo responded but was unlucky to be caught inches offside before half time. Daisy Hill dragged another shot well wide moments later. Then A great ball from the outside of the foot of Town's Terry Nestor picked out Gavin McDonald. His cross to Damo was blocked and went out for a corner.
Gavin McDonald looks sheepish as he sees his chance go begging.

The corner was cleared and the ref blew for half time just seconds later.
Town began the second half as they had ended the first, but the first chance of the half was ended with a foul on the Daisy Hill 'keeper after Damo's upwardly directed header had thrown the defence off guard. Paul "Bezza" Berry was having a great game and his superb shot after yet another mazy dribble was spilled by the Daisy Hill 'keeper. The ball fell to Damo but the 'keeper pulled off a good double save before Damo was judged to have used his hand to control the ball before he teed up the next shot.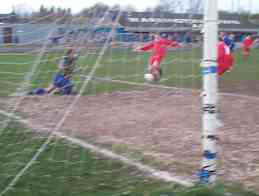 Damo takes control of the rebound before the 'keeper dives agian to prevent his hat trick
Damo came close several more times and again was unlucky to be caught off side midway through the half. Two minutes later Daisy Hill put together a decent attack but again failed to make it count after their striker was left with a shot from a tricky angle which he skewed high and wide. Still, Town went further ahead after a complete defensive mix up between the defenders and the Daisy Hill goalie. The ball was left bouncing with everyone staring at it except Gavin McDonald who stooped and dived to head the ball home into the open net - 3-1. Town were flowing smoothly now and continued their threatening attacks, culminating in a 1-2 between Terry Nester and Damo, who fired onto the bar from about 20 yards. Paul Anderton also came close after he picked up the ball with the advantage after a foul on McDonald. He mis-hit his shot, however and the ball span wide, with just two minutes left on the clock.
| | |
| --- | --- |
| | Alan Hansen says: Wha' a greet perfoormance. I can see that Daamoo bein' siined oop preetty quiick by a premieershiip side. Bu' I mean still the deefence could'a'been teeter you noo. A cleen sheeet is a greet thiing yenoo. |
TOWN OFF TO A FLIER
Warrington Town 3 Daisy Hill 1
TOWN raced into a 2-0 lead inside 10 minutes on Saturday. Damien Whitehead scored both goals. He fired in a penalty awarded after being brought down by Andy Veitch, having earlier met a perfectly flighted through ball by Paul Berry with the back of his head.

Whitehead took his tally to 15 goals in eight games in an overall total of 36 during the season. The 20-year-old is now within three goals of surpassing Billy O'Callaghan's club record total in the 1995/96 campaign. As was the case in his previous match, the woodwork denied Whitehead a hat-trick when his fierce 30 yard drive struck the angle of bar and post in the closing minutes.

Town had earlier in the second half put the outcome beyond doubt after Gavin McDonald nodded in his side's third goal. Ian Bold and Chris Hunt left the field with serious injuries and Daisy Hill created a number of openings against the regrouped Warrington rearguard. Their only goal, however, came midway through the first half through Paul Prescott.

Team: Thompson, Hunt (Anderton 27mins), Cartledge, Bold (Shaw 55mins), Edwards, Berry, Nestor, Tague, McDonald, Whitehead, Callaghan. Sub not used: Blair.