Match Report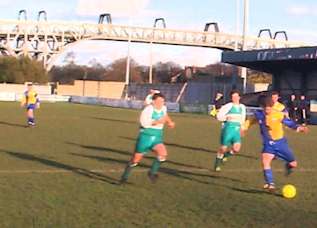 4th March 2000
Warrington Town 1 - 1 Holker Old Boys
After February's draw away from home, and Pieman's predicted "damn good stuffing" for Holker on their return trip, another dull 1-1 draw seemed like a bit of a let-down for the Town fans.
It seemed as though Town were going to storm this one after Mike Tandy put Town in front after just a few minutes with a storming direct free kick which flew into the top corner with the Holker keeper rooted to the spot.

Mike Tandy lines up a great shot from a free kick
to put Town ahead after just two minutes.

Holker's defence was shaky to say the least and after just another two minutes Town again came close, Gavin McDonald shooting just wide. Town were indeed in charge and there had been no Holker chances of note until late in the first half. Mike Tandy came closest next for Town, heading a corner just over the bar. Then Gavin McDonald broke through 10 minutes later. His initial shot was saved but he could only head the rebound onto the post. Neil McCormack kept Town in the game with five minutes to go before half time with a fine save.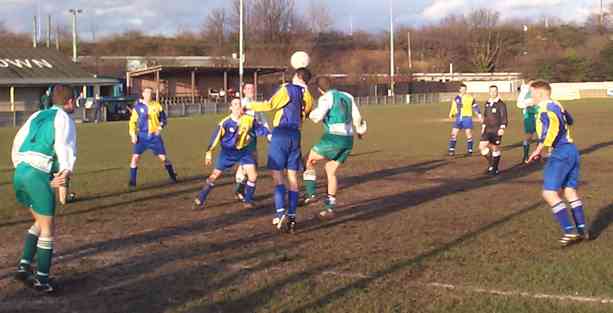 Unfortunately Holker equalised just seconds after the restart through Grant Cockerill. Still, Town continued to press and agian struck the woodwork after a good cross by Jed Bushell, free on the right. The frame of the goal denied Town a third time when Gavin McDonald hit the crossbar with a dink over the advancing Holker keeper with fifteen minutes to go. McDonald should have sealed it but shot close over the bar with seconds left to play.
| | |
| --- | --- |
| | Alan Hansen says: Aye a meeean hoowa many tiymes di Toon hi' tha woodwoork terdaaay then ay? Och aye a meeean thi reeeally shood'a poot awaae thoose chaaances! |
Here's a Warrington Guardian report:
Town Miss Chances
TOWN'S unblemished home defensive record, dating back to their clash with Tetley Walker at Christmas, came to an end at the hands of second division strugglers Holker on Saturday. An equaliser by the Cumbrian side early in the second half led to them conceding their first goal at Cantilever Park since then. In the absence through groin injuries of two of their leading strikers, Kevin Tyrrell and Neil Holden, Town squandered the opportunity to inflict a heavy North Western Trains League defeat on the visitors.
They made a promising start, going in front after only two minutes. Central defender Mike Tandy hammered in a free kick from 20 yards, awarded after Jed Bushell, making his first start this year, had been pulled back en route to goal. A curling shot by Robbie Preidt sped narrowly over the bar before Gavin McDonald was twice thwarted. Tandy, who regularly joined the attack at set pieces, powered a 27th minute header inches off target from a corner.
The match took on a different complexion during the second half. Holker, after drawing level through Grant Cockerill's lob over goalkeeper Neil McCormack from inside the box, grew in confidence. McCormack was forced to make two exceptional saves to deny the visitors snatching victory. Warrington carved out chances but both McDonald and Andy Barr, making a return to the side, should have done better than direct efforts against the woodwork.
In the closing moments McDonald looked certain to clinch a win after sprinting through the Holker rearguard, but in an ideal position blazed a shot over the bar.
Team: McCormack, Barr, Cartledge, Callaghan, Tandy, Ashton, McDonald, Pick, Bushell (Marsh 68 minutes), Preidt, Morgan. Subs not used: Bates, Blair.