Match Report
18th September 1999 - Warrington Town 0 - 0 Curzon Ashton
Town started this match very well. After just two minutes, Kevin Tyrell placed a header too high after great work by Ged Bushell who had won the advantage on the right. The match promised to be exciting and the Cantilever Park crowd were anticipating a great game. But it did not come. Nothing really happened in the first half at all.
On 10 minutes, Curzon had a chance which was spooned over the bar, and came the closest of either team, hitting the base of the post after Town's defence had lapsed temporarily. Town's only other good chance after Kev's header went begging five minutes before half time after great link up play by Kev with Gavin McDonald, Ged Bushell and of course the midfield maestro Terry Nestor. But then the half time whistle blew, and everyone trudged off for a pie, mumbling about how uneventful the game was.
At the start of the second half Curzon should really have gone ahead but hit the post again after a rare defensive mistake by Andy Tague. Two minutes later, Ged was fighting back for Town but ran headlong into the Curzon keeper. He didn't stand a chance - the keeper was large to say the least. On about 64 minutes, Kevin Tyrell came close again but managed to pull of a Paul Gascoigne-in-the-semi-final-of-Euro 96 move arriving at the far post milliseconds too late and inches behind the ball, crossed in superbly by Chris Lee.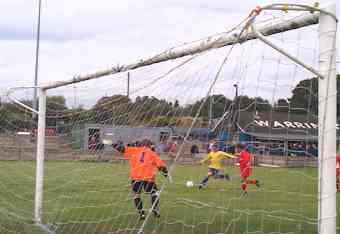 This shot went wide....oh well
Then came Town's best chance of the game. Gavin McDonald whipped in a free kick which was headed back into the danger area by Chris Lee, right to the feet of Kev. But by the time he'd sorted out his feet and volleyed what looked to be a certain goal, a Curzon defender had got up off the floor to block. Curzon also had a good chance but it was the only other interesting thing which happened. Their no. 4 rose for a free header but placed it beyond the right hand post.
| | |
| --- | --- |
| | Alan Hansen says: Aye weel - a soolid perfooormeence boot yev joos gottae be moore deeadly in froont o the gool. A meen Kevin Tyrell - like Michaeel Oooon sayys - yev gottae heed it doon. |