Match Report
25th September 1999 - Nelson 2 - 1 Warrington Town
Nelson's unbeaten league run looked decidedly risky towards the end of this match. With the score at 1-1, persistent Town pressure carved out numerous chances for their forwards, Nelson scrambled the ball to safety on several occasions and reaped the benefits of poor refereeing to avoid conceding a penalty.

In fact there was a huge sigh of relief from home fans around the ground as the referee blew the final whistle. Nelson managed to get a goal at the death, which in our humble opinion went against the balance of play in the second half.

Town had got off to a terrible start, Nelson scoring with a looping header after only 4 minutes. Town were second best early on but their passing game began to dominate on a great playing surface. Terry Nestor was unlucky when he found himself in possession with only the goalkeeper to beat but somehow Nelson's number 1 managed to get a hand to the ball. Half time came with no breakthrough.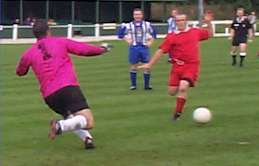 Nestor is denied as he tries to round the Nelson keeper
Town carried on where they left off in the second half but it wasn't until late on that Nestor equalised with a fantastic header into the top right corner. Nelson had previously survived a good header from Kevin Tyrell and a shot from Ged Bushell that hit the side netting. With the score at 1-1 Nelson inevitably staged something of a fightback but the referee was to blame for not awarding a clear penalty as Tyrell was felled while breaking free inside the Nelson penalty area.
| | |
| --- | --- |
| | Alan Hansen says: Och. Have a noo said many's the taim the noo, yeeve gottae defend betta than tha if yee want sucess a' this leevel? |
From the Warrington Guardian:
WARRINGTON were victims of rough justice on Saturday after Nelson substitute Jon Irving [should read Irvine] plundered the points for the Lancashire side deep into stoppage time. The referee, for no apparent reason, added an extra eight minutes at the end of the game which had contained only two brief hold-ups through injury during the second half.

Town, who went close to inflicting Nelson's first North Western Trains League defeat of the season with a sustained assault on their goal, instead ended with no reward for all their brave effort. Home goalkeeper Simon Burrow proved a major obstacle in denying Town victory. He produced three outstanding reflex saves in quick succession after the interval, turning over powerful headers by Chris Lee, Robbie Preidt and Kevin Tyrrel. Terry Nestor had more success to bring the sides level, heading home an Andy Tague free-kick on 74 minutes.

Warrington, following their inspired giant-killing feat at Runcorn in the Cheshire senior cup four days earlier, had struggled to attain that level of performance. They continually lost possession of the ball, particularly in midfield, allowing Nelson to launch a series of attacks. After Craig Whittaker, left unmarked, headed them into a fourth-minute lead he then spurned a simple chance with only the keeper to beat, before Tague, who has impressed since returning to the Town line-up after injury, scrambled a shot by Mark Robinson off the line.

Town, however, were unable to prevent Nelson dealing a sickening blow with only seconds remaining when Irving [Irvine] broke free in the box and lashed home an angled drive.