Moment of the match
1st September 1998 - Warrington Town 1 - 1 Woodley Sports
Warrington Town 1 - 2 Woodley Sports after extra time
A coat of paint away
It's 1-1 with only a few minutes on the clock when Town grab some possession in theWoodley box. A quick turn and a vicious shot seems to be flying in...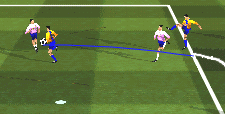 The keeper gets his hand to it but can't stop it. Is it going in? It looks like it but then hits the post and bounces to safety.

Moments later the game went to extra time and Woodley scored the winner against the run of play a few minutes from the end.
| | |
| --- | --- |
| | Alan Hansen says: Ay,weel, ye nooo. Wha canna sae? Y'kno, he's hi the target bu the keeeeper's jes gottae finger tae it an its made the diffrence. Bad luck, boot tha's fooball ye noo. |