WARRINGTON Town soccer club have set up some challenging pre-season friendlies which they hope will prepare them for the demands of the North West Counties elite division.
They will first play Alsager away on July 21, kick-off 3pm. Other scheduled games, which kick-off at 7.30pm unless stated, are Buckley Town away on July 24, Heswall away on July 28, kick-off 3pm, Vauxhall away on July 30 and Bury at home on August 6.
The pre-season programme will conclude with a mouth-watering home fixture against Runcorn on August 9. The game is due to start at 7.30pm.
After gaining promotion last year, the club are determined not to lose a single member of their squad.
As well as hanging on to their current players, the club are also hoping to strengthen the team in preparation for the new season and they are due to speak to a couple of possible new recruits in the next few weeks.
Team coach Dave Hughes said: "If we can make a few additions to the squad I am sure we will make a big impression in Division One. I think we'll finish mid-table at least."
The club are also appealing for 'ball boys' to work for the club during the new season. If you are interested contact Town's secretary Barry Thorpe on 631932.
Champions: Town have done it!
Warrington Town have been crowned Champions of North West Counties League Division Two. We will be playing in Division One next season, from whence we were relegated after the 97-98 season. Congratulations to everyone at the Club from Yellows. Bring on the Unibond League!
Result: Tetley Walker fold
There will be no Warrington derby next season as Tetley Walker, despite finishing second to Town in the league, have been kicked out of their ground by its owners. Maybe a friendly?
Story from the online Warrington Guardian:
GREENALLS Amateur Football Club will replace Tetley Walker at their current Long Lane home next season.
But if the Warrington Soccer League side does not live up to its promises, they will face the same predicament of being kicked out by the social club committee.
Tetley are urgently seeking a new ground by May 5 or else face resigning from the North West Counties League in which they are chasing the Division Two title.
Club chiefs say if no new base is found 'the team will probably fold'.
The 12 Carlsberg-Tetley Sports and Social Club committee men voted unanimously to evict Alan Aspinall's team following 'previous warnings' that the soccer team must spend more money behind the bar to help the social centre to survive.
1/2 Result: Chadderton 0 - 3 Town
Barry says...
Warrington won this game through Neal Holden, and substitutes Gareth Chadwick & Brendan Hennessey in this game to keep Town 2nd in the League after two Chadderton players were sent off.
Town took control of this game in the first minutes when Stuart Honor should have scored but he didn't hit the ball hard enough. Chadderton played some good football but Town's defence held firm. Half way through the first half Town's Keeper McCormack was flattened by Dean Smith after he released the ball, and then a little later the same player did the same thing and was sent off. In the 36th minute Neal Holden scored when Andy Moore's pass found Holden who smashed the ball past Chadderton's Keeper Tony Greenhalgh. Dave Tickle scored 10 minutes later but the referee judged him off-side.
In the second half Chadderton did try to get something out of this game but with one player off the field, Town were catching them on the break. Subs Hennessey & Chadwick had chances to score, but half way through the half Hennessey was put clean through on goal, only to be brought down by Glynn Billington. The referee had no choice but to send Billington off. The second goal came in the 63rd minute when Tickle switched the play and Holden's pass found Hennesssey to score his first goal for the club. Minutes from the end Chadwick scored Warrington's third to complete a well earned win.
1/2 Results update: Town keep winning!
Here are some match reports from secretary Barry Thorpe.....
ASHTON TOWN 1 - 2 WARRINGTON TOWN
"Warrington nearly lost this game through a bad mistake by goalkeeper Neil McCormack, but it was the two substitutes Andy Tague & Chris Moores that saved the day late into injury time. Town should of taken the lead in the 6th minute when they were awarded a penalty but Mike Heverin aimed straight at Ashton Town's keeper Danny Preist he shoild of added two more goals to his tally but he missed both chances. Afetr that it was Warringotn in totaly control of this game with the number of chances that fell to the players Andy Moore had a couple of chances but couldn't convert his efforts on goal but Ashton held on and went in 0 - 0 at the interval.

In the second half Tickle & Moores scored but were both ruled off side by the Linesman and with lots of chances on this very soft pitch for Warrington, but it was Ashton Town that took the lead through a ruff challenge from Neil McCormack on Ken Muir to give the penalty away, Lee Cunliffe converted the spot kick. With minutes to go Town equlised trough Sub Andy Tague when Chris Moores cross was headed back across the area Tague chested the ball down and volleyed the ball past Priest, deep into injury time Warrington second goal came from Chris Moores when Dave Tickle burst truogh the defence and a pin point pass to Moores to secure the victory for Warrington."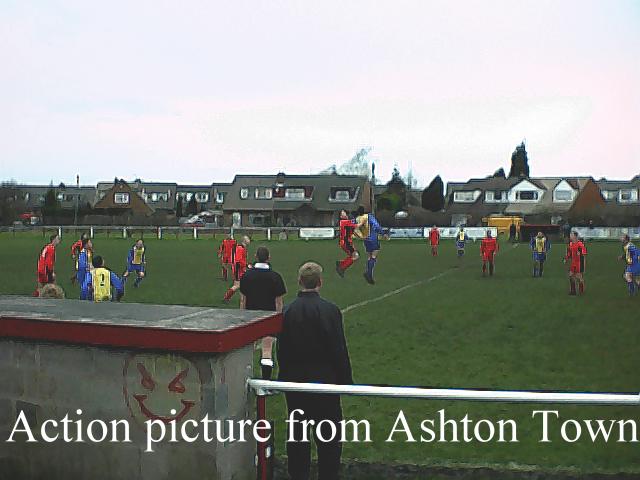 WARRINGTON TOWN 2 - 0 FORMBY
| | |
| --- | --- |
| | "Warrington's double over Formby kept Warrington in touch with the top teams,goals by Stuart Honor & a Mike Heverin penalty,and a penalty save from Warrington's keeper Neil McCormack. Formby started the better of the teams with pressure in defence and four corners in the first 5 minutes but Warrington held firm to keep Formby out, Town started to get their act together and had a number of chances to score through Andy Moore, Mike Heverin & Stuart Honor but they either hit the bar or put their shots wide of goal, but the best chance fell to Neal Holden when he had only the keeper to beat but took to long on the ball, From the corner in the 45 minute Formby could'nt clear their lines whem the ball fell to Stuart Honor to score. 3 minutes into the second half Warrington were a awared with a penalty when Heverin was pushed in the box,and Heverin scored his 13th goal of the campaign. Formby seemed to be getting back into the game but Warrington defence held firm and could of extended their lead,Formby were awarded a penalty when Dave Pick was judged to have pushed a Formby player, half way through this second half. Neil McCormack saved the penalty diving to his right to deny Formby." |
WARRINGTON TOWN 1 - 1 SQUIRES GATE
"A late equiliser from Dave Tickle earned Warrington a deserved point against fellow North West Counties second division promotion contenders Squires Gate
after Scott Sugden gave them the lead. The first half was a tough battle as both sides struggled to find a way through,but it was Town that had the best chances to score when Neal Holden fired in a shot from 18 yards but his strike was well saved by the Gate's keeper Gareth Gary. Dave Tickle thought he had scored when his header beat Gray but was cleared of the line by a defender as bith teams went in level at the interval.

In the second half Gate took the lead against the run of play when Sugden scored from close range after Alex Rawson's header rebounded to him off the post. Warrington through every thing they could to level the score, and with 3 minutes remaining a deep cross from Dave Pick was met by Tickle, who scored his ninth goal of the season from close range.Honor on as substitute should of give Town the win but his header went wide in injury time."

Warrington Town Team: McMahon, Moore, Cartledge, Callaghan, Pick, Hives, Trewitt, Tickle, Heverin, Holden, Tague. Subs Honor, Moores, Blair.
1/2 We're going up: 4-0 again!
WARRINGTON TOWN 4 - 0 COLNE
Barry writes...
"A second half goal blitz by Warrington Town against Colne enhanced their bid for promotion - Mike Heverin scored two, Gary Trewitt one and Stuart Honor. Town also fielded two new signings on the day; Brendan Hennessey (midfield) and Ryan McMahon(goalkeeper).

In the first half, Town had a number of chances to seal this game up through Dave Tickle and Mike Heverin. The best chance fell to Tickle from a free kick, when his header beat the keeper but there was a defender on the line to knock the ball away. It wasn't long before Town were rewarded with a goal from Heverin, his powerful header beat the keeper easily. Dave Tickle set up the next goal with a run from midfield and pass to Gary Trewitt, who slid the ball under the keeper.

Stuart Honor scored the third from a scramble in the box to give him his second goal in two games, and Heverin finished off with his second goal to kill off Colne and complete the double over them."
1/2 Great Town victory: 4-0 !
Town smashed Castleton Gabriels 4-0 on Tuesday night - here's a report from Barry....
CASTLETON GABRIELS 0 - 4 WARRINGTON TOWN
Warrington went 3rd in the League above Nelson on goal difference on Tuesday with goals from Tickle (2) Trewitt & Honor. On this heavy pitch Warrington took the lead in the 7th minute when the ball wasn't cleared by Castleton. It fell to Dave Tickle and his 20 yard low drive gave the keeper no chance. Castleton battled well but were hit by another sucker punch when Gary Trewitt scored in the 37th minute after Castleton had put pressure on Town's defence with a well taken shot. Six minutes later Stuart Honor scored when the ball was hit over the top with Castleton claiming for offside - the referee played on and Honor cooly placed the ball passed the keeper.
The second half went as did the first with chances for both sides. Tickle should have scored his second of the night but blasted the ball over the bar. Castleton had chances fron Lewis but some great saves from McCormack did Warrington a favour. All three subs were brought on for Warrington - substitute Neal Holden had a great chance to score when the ball was played from Tickle to Andy Moore. His cross was met by Holden but he put the ball wide. Tickle rounded the night off when he scored his second in the 87th minute.
Signings on the way: the Guardian reports
Story from the online Warrington Guardian:
WARRINGTON Town are not resting on their laurels while a promotion chance is in sight. They have squad depth with a neat blend of experience and youth and they have lost only two of their last 12 games in North West Counties Division Two.
Manager Alan Blair said: "We can't afford to stand still. We are on a decent run and it is obvious that the side is coming together. Last week's result came without captain Andy Tague and striker Kevin Tyrrell is not far off a return. So the squad is getting stronger but we are looking to improve it further. There are three or four players we are hoping to sign in the next two to three weeks."
Blair, the NWC Division Two manager of the month for December, offered no names of his targets but having so many player options available to him is boosting competition for places and generating consistent performances from players when they manage to get a shirt. Town are playing with confidence and Blair admitted his side fears no other in the division.
He said: "Going to Castleton on Saturday wll be tougher than the Oldham game last week but they've slipped up a little bit lately. We have said that no matter who we play in the league, and we've played those teams above us, there's no team on their day that is better than us. We've lost a couple of games but no-one's really given us a good hiding. Out of the games we've lost there's only two I think we should have lost. Squires Gate deserved their 2-0 victory over us but it was a strange day, just before Christmas, and a few lads, maybe, had been out the night before which didn't help. There was also Chadderton in the first game of the season when we lost 4-0 at home. There isn't a team in the league who is going to frighten us so we don't hold any fears about going to Castleton and gaining a result."
Another chink in the current success chain is the enthusiastic duo working with Blair. His assistant, Dave Hughes, and coach, Derek Brownbill, are both former managers of Town with their hearts fully behind the Cantilever Park club.
Blair said: "It's working well with Dave and Derek. We are three different characters and we see different parts of the game. Obviously I make the final decisions and carry the can but it is nice to be able to turn to someone and ask their thoughts. It is hard to make decisions on your own."
21/1 Sponsor a Player
Get your name or Company noticed in Warrington by sponsoring a player for the season. Your name will go alongside the player's name in the programme. This costs £28 for the full kit.
18/1 Town get new sponsor: Print Magic
Barry Thorpe has confirmed Warrington Town's new sponsors are Warrington's high profile magic company Print Magic. Town have a brand new strip courtesy of Print Magic and the all-new replica shirts are now available in the Warrington Town superstore (shop) (£20) at the Cantilever Park stadium, which now has sponsored stands. See www.print-magic.com for more details....
Town get new secretary: Barry Thorpe is the man
Barry says:
"hi my name is barry thorpe and I am the new secretary for warrington town I used to be at warrington over 5 years ago but left with derek I was at squires gate at the beginning of the season but contacted harry to become secretary which now I am"
Under Barry's great secretarial skills, Town have been going from strenth to strenth.
6/4 Silverware: Holden stars in Cup Final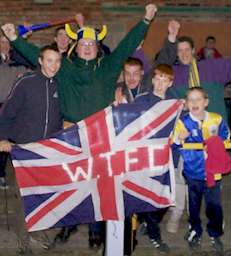 Town ended their silverware drought tonight, overcoming local rivals Tetley Walker in the NWTL Division Two Trophy Final 2-0 with two second half goals from striker Neal Holden. Read all about it.
13/3 It's official: Pieman lands top committee spot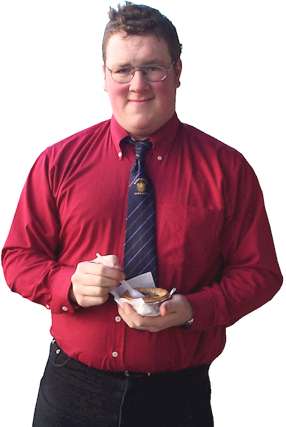 Yes it's true, following Town's recent official committee shuffling, the Pieman himself has been "voted into" the highly regarded position of "fans representative", or something. He's also lined up the position of Programme Editor for next season, taking over from the Yellows team. However, we would like to stress that the Yellows website will be maintained and kept up to date with news straight from Pieman next season. This means that while it may seem as though he still just mans the turnstiles and eats pies like he always did, he now has to wear a Warrington Town tie and look smart, as this exclusive Yellow's photograph shows, taken at the recent clash at Cantilever Park between the Yellows and Holker Old Boys. The game turned into a disappointing 1-1 draw but still, you might as well read the highly exciting Yellows match report here and then see when you could next cheer on the Town on the fixtures and results page. Town's latest game was an even more disappointing 3-0 defeat at the hands of Bacup Borough. They must have been straining at the leash after Damo's demolition job last season.