Division Two..
This is a link to a NWTL league table page, which we reckon is just about the most up-to-date table on the internet. Remember to click on BACK to return to this top-quality web page.
98-99 Fixtures & Results
Click on the anorak to see last season's results and the final league table.
99-00 Fixtures & Results
Final League Table 1999-2000: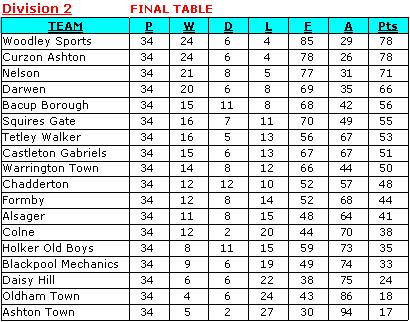 Home match reports - completely biased, but worth reading anyway
Directions to Cantilever Park, just in case you want to watch Town, but don't know where to go.
July
13
Warrington Town
1-2
Chester City
Pre-season friendly, kick off 7.30
22
Warrington Town
1-3
Fleetwood
Pre-season friendly
29
Warrington Town
?
Newton / Hewall
Pre-season friendly
31
Thame United
?
Warrington Town
Pre-season friendly
August
3/4
Warrington Town
?
Prescot Cables
Pre-season friendly, kick off 7.30
7
Warrington Town
1-0
Conway
Pre-season friendly
14
Warrington Town
1-2
Colne
17
Warrington Town
5-0
Daisy Hill
21
Cheadle Town
0-3
Warrington Town
F.A. Cup preliminary round
24
Squires Gate
0-0
Warrington Town
28
Formby
3-2
Warrington Town
30
Warrington Town
2-0
Castleton Gabriels
September
4
Warrington Town
1-8
Radcliffe Borough
F.A. Cup first qualifying round
7
Warrington Town
1-4
Marine
Liverpool Senior Cup round 1
11
Ashton Town
3-4
Warrington Town
14
Warrington Town
3-1
Squires Gate
18
Warrington Town
0-0
Curzon Ashton
21
Runcorn
3-4
Warrington Town
Cheshire Senior Cup Round 1
25
Nelson
2-1
Warrington Town
October
2
Castleton Gabriels
2-2
Warrington Town
5
Warrington Town
0-0
Oldham Town
9
Warrington Town
1-0
Ashton Town
League Cup preliminary round
16
Warrington Town
1-3
Bacup Borough
23
Curzon Ashton
3-3
Warrington Town
F.A. Carlsberg Vase Round 1
26
Warrington Town
3-1
Curzon Ashton
F.A. Carlsberg Vase replay
30
Blackpool Mechanics
1-4
Warrington Town
November
2
Bootle
0-1
[aet]
Warrington Town
Floodlit Trophy round 1
6
Daisy Hill
0-1
Warrington Town
Division 2 Trophy Round 1
9
Warrington Town
5-0
Formby
13
Dunstan Federation Breweries
1-2
Warrington Town
F.A. Carlsberg Vase Round 2
16
Stalybridge Celtic
2-0
Warrington Town
Chesire Senior Cup Round 2
20
Warrington Town
0-1
Darwen
27
Squires Gate
4-1
Warrington Town
League Cup Round 1
30
Warrington Town
2-3
Woodley Sports
December
4
Vauxhall GM
2-1
Warrington Town
F.A. Carlsberg Vase Round 3
6
Great Harwood Town
P-P
Warrington Town
Floodlit Trophy round 2
11
Warrington Town
P-P
Holker Old Boys
18
Oldham Town
P-P
Warrington Town
27
Warrington Town
0-2
Tetley Walker
January
3
Alsager
1-2
Warrington Town
8
Warrington Town
0-0
[aet]
Formby
(expelled)
Division 2 Trophy Round 2
11
Warrington Town
2-0
Alsager
15
Colne
0-6
Warrington Town
17
Great Harwood Town
2-1
Warrington Town
Floodlit Trophy round 2 replay
22
Chadderton
1-1
Warrington Town
25
Warrington Town
2-0
Blackpool Mechanics
29
Warrington Town
2-0
Nelson
Division 2 Trophy Semi Final 1st Leg
February
5
Nelson
2-1
[2-3]
Warrington Town
Division 2 Trophy Semi Final 2nd Leg
12
Holker Old Boys
2-2
Warrington Town
19
Warrington Town
4-0
Ashton Town
26
Curzon Ashton
3-2
Warrington Town
March
4
Warrington Town
1-1
Holker Old Boys
11
Bacup Borough
3-0
Warrington Town
18
Warrington Town
0-1
Nelson
25
Oldham Town
0-3
Warrington Town
28
Darwen
1-3
Warrington Town
April
1
Warrington Town
1-1
Chadderton
6
Warrington Town
2-0
Tetley Walker
Division 2 Trophy Final
(to be played at Prescot Cables - k.o. 7:30 pm)
8
Woodley Sports
3-0
Warrington Town
15
Daisy Hill
1-3
Warrington Town
24
Tetley Walker
2-1
Warrington Town